South Sudan factions sign ceasefire
Comments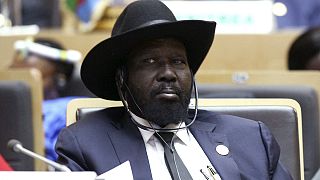 South Sudan's President Salva Kiir and his one time former deputy and current rebel commander Riek Machar, have signed another ceasefire.
It moves the two closer to a final deal to end a 15-month conflict which has ravaged Africa's newest country.
The two sides have in principle agreed to sharing power and a transitional government.
More than 10,000 people have been killed, more than 1.5 million others have been driven from their homes and many in the oil-producing nation are struggling to find enough food to eat.
Rights groups have said both factions have been responsible for ethnic killings and other abuses, driving the county to the brink of famine. The fighting has largely pitted Kiir's Dinka ethnic group against Machar's Nuer group.