Former Colombian spy chief to face charges over phone tap scandal
Comments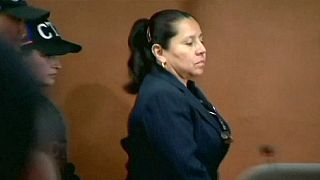 The former head of Colombia's intelligence agency, who fled to Panama in 2010, has surrendered to authorities to face charges of spying on opponents of former President Alvaro Uribe.
On Saturday, a Colombian judge ordered Maria del Pilar Hurtado to be jailed at the chief prosecutor's office pending trial.
She was flown to Bogota after turning herself over to Panamanian authorities late on Friday.
Colombian Attorney General Eduardo Montealegre said an arrest warrant had been issued by a judge of the Superior Court of Bogota, several months ago.
The accusations against the spy chief threaten to further tarnish the legacy of Uribe, for years the United States' staunchest ally in Latin America and credited with crushing leftist rebels once dominant across large swaths of the country.
Hurtado has never implicated the former president in any wrongdoing.
As head of the now-defunct DAS (Departamento Administrativo de Seguridad) spy agency, she oversaw a scandal-ridden institution whose agents seemed unrestrained in their use of illegal wiretaps to monitor politicians, human rights defenders, journalists and even Supreme Court justices who opposed the former conservative leader.
Dozens of DAS officials, including one of Hurtado's predecessors, have been convicted of illegal spying and providing assistance to right-wing paramilitary death squads.
When President Juan Manuel Santos took office in 2010, he immediately disbanded the DAS and pursued charges against several of its former officials.
Hurtado was granted asylum in Panama in 2010. But the Central American country's Supreme Court ruled last year that the decision to give her refuge was unconstitutional.
Uribe took to Twitter on Saturday to denounce what he called the "political torture" of Hurtado.
(AP)