Carnival of Venice underway in Italy
Comments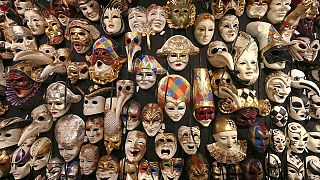 One of the world's oldest festivals, the Carnival of Venice, has begun.
Thousands of tourists have crowded the city's canals, bridges and squares to enjoy the colourful displays of masks and costumes.
Tourists from many different countries gathered along the banks and on the bridges of the canal to watch the spectacle.
"It's incredible, it's very perfect and beautiful and wonderful," said Suk Jung from South Korea.
"It's a little different (from the carnival in Brazil)", said Cristiane Marquez, from Porto Alegre.
''But Venice is unique so it's a dream to stay here celebrating this event," she added.
''This is my third time in Venice and I wanted to see how different it is during the Carnival. The costumes are really fascinating, you know," said Bilge Cetin, from Turkey.
Venice resident Lorenzo Mocenigo said the city itself was what rendered the carnival so special.
"First of all the city, like no other in the world, then there are the masks and all the other beautiful things that people can see here," Mocenigo said.
Balls held in Venetian palaces, concerts and gondola parades are organised throughout the 17-day carnival which runs until February 17.
Thousands of tourists from across Italy and the world every year crowd the city's canals, bridges and squares to marvel at the colourful display of masks and costumes.
Carnival madness first began centuries ago as a period of excess before the rigours of lent, the 40 days of fasting that traditionally precede Easter.
Venetians could then hide their identities behind masks and do as they pleased.
It was a pressure valve to ease class tensions, allowing the poor, for a brief and controlled period, to break Venice's rigid, oligarchical social order.
The carnival's end marks the beginning of Lent and signals the start of Venice's tourist season, which runs into the autumn.