23 dead in 24 hours in fresh attacks on eastern Ukraine
Comments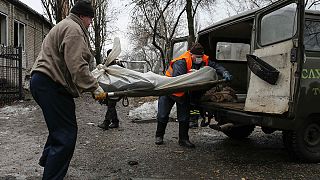 Authorities in Kyiv say 13 Ukrainian soldiers and ten civilians were killed in 24 hours between January 31 and February 1, in the restive east of the country.
In the rebel stronghold of Donetsk, a young man's lifeless body could be seen on the ground. Witnesses say he was killed when a shell struck a nearby wall.
Hopes of a ceasefire in the region evaporated on Saturday (January 31) when peace talks between Ukrainian and Russian authorities and rebel delegates collapsed.
But neither this news nor the shelling could break one local woman's spirit:
"We will all stay and defend ourselves," she said. "We are not leaving. All of us, the old people, are living here and bracing ourselves. They have attacked us."
Fresh rebel offensives have seen the civilian and military death toll rise in the two weeks running up to the weekend's attacks.
A recent assault on Mariupol killed 30. To protest against the assault, activists in the Ukrainian capital have placed 30 crosses in front of the Russian embassy.
Activist Eugen Chobotaryov explained the significance of the demonstration:
"The lives of ordinary people with real names and surnames have now simply become statistics in a flow of information we've received from different channels. On these 30 crosses we have put the names of people who died at the hands of Russian aggressors," he said.
Mariupol lies between mainland Russia and Russian-annexed Crimea. Heavy fighting in the region has raised fears that Russian-backed separatists could try to form a land link between the country and the peninsula.
The United Nations estimates more than 5,100 people have been killed since conflict in the region started in April 2014. Over 900,000 are thought to have been displaced across the country.