Venezuela troops to use lethal force at protests
Comments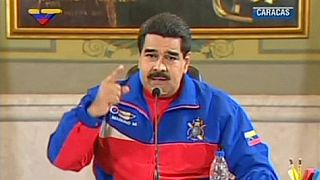 As Venezuelans face chronic food shortages and their country's economic crisis deepens, its government has authorised its armed forces to use lethal force against protesters if they believe their lives are at risk during demonstrations.
Ordinary people have been angry for months at having to wait in long queues and pay increasingly higher prices for basic goods and food such as meat, rice, butter, wheat flour and sugar. If the shortages persist, the government fears people may become more desperate, more violent.
The country's defence minister said the new rules are in response to three months of intense street protests last year.
Then, a Human Rights Watch report documented Venezuelan security forces using "unlawful force in response to anti-government demonstrations, severely beating unarmed protesters and shooting them at point blank range."
"The scale of rights violations we found in Venezuela and the collaboration of security forces and justice officials in committing them shows these aren't isolated incidents or the excesses of a few rogue actors," said José Miguel Vivanco, Americas director at Human Rights Watch. "Rather, they are the part of an alarming pattern of abuse that is the worst we have seen in Venezuela in years."
Now forces may legally use lethal force to control protesters.
As we covered in our story on #Venezuelahttps://t.co/gXfnjmql1c, country to possibly use deadly force at protests: http://t.co/2fqgXQZJbw

— reported.ly (@reportedly) January 31, 2015
Read: Venezuela: Several shot dead in anti-government street protests
Read: Venezuela: tear gas, rubber bullets fired at protesters