Dutch TV intruder held in custody
Comments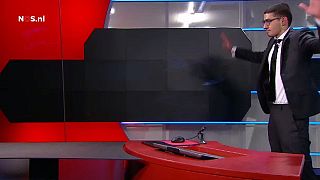 Nineteen-year-old Tarik Zahzah is in police custody after his bid to speak to the Dutch nation.
A security operation was mounted after the suspect had demanded to go to the main TV news studio of broadcaster NOS. A quick thinking official led him to an empty studio instead.
The news footage showed him saying "The things are going to be said – those are very large world affairs. We were hired by the security service." Police broke into the studio and demanded he drop the gun he was carrying.
The weapon which he had by his side and was with a silencer fitted was heard to drop to the floor. It is still unclear if it was a fake. Tarik Zahzah could now face charges of kidnapping, possession of a firearm and threatening people with a weapon. His motive is still not known.
After his arrest security forces carried out a sweep of the building for explosives but nothing was found. Investigations are underway to establish if he had accomplices around the country with explosives.
A reporter who spoke to the suspect said he had claimed to be from a "hackers" collective. It's believed he had taken a letter with him in which he wrote eight high explosives containing radioactive material had been planted in the Netherlands.