Police and protesters clash in 'worst Kosovo unrest' since 2008 breakaway
Comments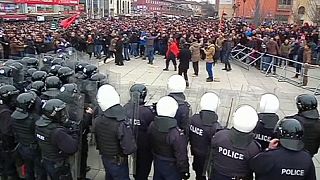 Riot police and anti-government protesters fought running battles on Tuesday in what has been described as Kosovo's worst unrest since it unilaterally declared independence from Serbia in 2008.
Trouble flared as demonstrators took to the streets of the capital Pristina in rallies organised by opposition political parties.
This was the second bout of unrest since Saturday, amid popular anger over remarks by an ethnic Serb minister that have been deemed offensive.
Injuries are reported on both sides.
The minister had branded as "savages" a group of ethnic Albanians who had acted to stop ethnic Serbs visiting a monastery for Orthodox Christmas, claiming that some of the pilgrims were war criminals.
He has publicly apologised for his remarks but some are still demanding his resignation.
The violence is a potent reminder of the depth of popular dissatisfaction in Kosovo, still mired in poverty and corruption despite Western backing for its breakaway.
There was no sign of intervention on Tuesday by NATO's 5,000-strong peacekeeping force or hundreds of EU police officers stationed in Kosovo to encourage the rule of law.