New York snowstorm less severe than was feared
Comments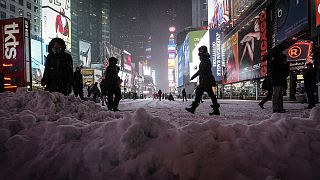 A driving ban has been lifted in New York after a snowstorm there fell short of dire predictions.
With the New York Stock Exchange and the subway back up and running, city dwellers are divided over whether officials over-reacted.
New York's Mayor Bill de Blasio had warned people to 'prepare for something worse' than they had seen before.
But the expected snowstorm 'of potentially historic proportions' failed to materialise.
"The mayor might have blown it this time but he was probably just playing it safe," said Manny Martinez, 55, as he salted his driveway in New York's Brooklyn borough. Martinez said he was glad to find clearing the snow easier than he had expected, "This is what I was praying for, the white fluffy stuff."
Others were frustrated that de Blasio had preemptively shut the subway and ordered cabs off the roads.
"It's never as bad as they say it is going to be," said Greg Noble, 29, as he walked briskly to his maintenance job some 30 city blocks from his Manhattan home. "This made it a little difficult to go to my job. I usually take a taxi, but no taxis today."
Thousands of flights have been cancelled at US airports as part of the better safe-than-sorry policy.
But while New York City looks to have escaped the worst, other parts of the US East Coast haven't been as lucky.
Some of the heaviest snowfall has been recorded in parts of Connecticut and Massachusetts, with about 50 cm reported in and around Worcester, well over the 15 cm reported in New York City's Central Park.
A blizzard warning has remained in effect for much of Massachusetts and Rhode Island, where snow was expected to go on falling throughout the day at a rate as high as 5 to 8 cm an hour.