New York shuts down as 'life-threatening blizzard' slams into northeast US
Comments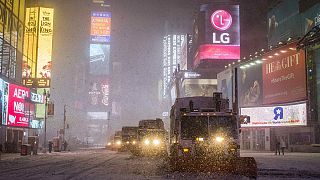 It is described as a "life-threatening blizzard" by the US National Weather Service – and it has hit the northeastern states.
It could be a matter of life and death so caution is required
Strong winds and heavy snow almost a metre deep are predicted to strike an area from New Jersey to Maine, affecting up to 20 percent of Americans.
The Weather Prediction Center issued a storm summary message warning of "high impact winter storm expected to bring crippling snowfall amounts and life-threatening blizzard conditions".
New York, known as the city that never sleeps, is on virtual shutdown – as are other cities. Winds of up to 80 kilometres an hour are forecast.
The New York governor issued a travel ban, forbidding the use of private cars in the area, and the authorities say the rule will be strictly enforced with fines of up to 300 dollars.
"If you are in your car and you are on any road, town, village, city, it doesn't matter, after 11 o'clock, you will technically be committing a crime," New York Governor Andrew Cuomo said. "It could be a matter of life and death so caution is required."
The scenes in Times Square where snowploughs were out at work, were not what some tourists expected.
"Completely different. It's like two different cities in one place," said Steph Krueger, a visitor from Australia.
"I agree with that. We got to see a lot yesterday. It was great going actually to Central Park and throw a few snowballs, go sledding at that sort of stuff, that was really good to see," her friend Dean Vance said.
The last time New York experienced such havoc was when Superstorm Sandy devastated the region in 2012.
Then, stock exchanges were forced to close; this time they said they hoped to open. Schools have closed until at least Wednesday.
Boston is expected to bear the brunt of the storm.
Nationally, at least 3,000 US flights have been cancelled, with Boston and New York the worst affected.
Rail and bus passengers as well as fliers have also been stranded; entertainment and sports events have been cancelled.
On social media there are apocalyptic warnings with hashtags such as #blizzardof2015, #Snowmageddon2015 and #Snowpocalypse.