Muslim concerns grow over spread of PEGIDA movement in Germany
Comments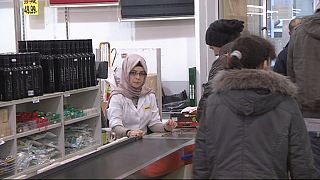 Many immigrants living in Germany are becoming increasingly worried about the Patriotic Europeans against the Islamisation of the West movement, or PEGIDA for short.
Germany invited Turkish "guest workers" in the 1960s and 1970s, intending that they would return to Turkey, but many stayed.
The Imam from a local mosque in the St Georg area of Hamburg said PEGIDA harms the image of Germany:
"It's also a big movement that frightens people. When you look at the place where these demos take place, the immigrant population makes up less than 1 %. Therefore these people are expressing their fears of something that doesn't exist, and Muslims are worried about the reasons behind this."
Recent statistics note that reported attacks on mosques and anti-Turkish graffiti on school walls and shops are on the rise across the country.
One local Turkish German said: "This really shows that many people do not know about religion or about Islam."
While one woman said people must change their behaviour:
"I think they should try to talk more with each other and show respect towards different religions."
According to a new study released by the Bertelsmann Foundation, 57% of non-Muslims in Germany regard Islam as a threat, while 61% believe Islam cannot assimilate to Western lifestyles.