Dresden welcomes all to anti-PEGIDA rock concerts
Comments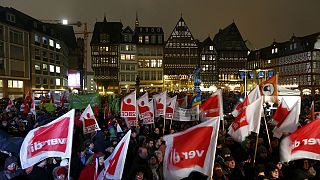 The German city of Dresden rocked on Monday night to the sound of anti-PEGIDA concerts.
It was a chance for the city which is becoming known for weekly anti-Islam rallies to show a different image.
Organisers said everyone was welcome – including PEGIDA members who claim the country is becoming overrun by Muslims and refugees.
In other German cities such as Frankfurt and Hamburg a few PEGIDA supporters were vastly outnumbered by their critics.
Much of Germany has been shocked by the recent surge in intolerance and accuse the PEGIDA movement of having links with the far-right – it's something PEGIDA supporters deny.
The populist anti-Islamisation movement began holding weekly rallies in Dresden back in October. It is now attracting tens of thousands of people to its Monday marches. They claim not to be racist or xenophobic but critics accuse them of being 'Pinstriped Nazis'.
Out reporter Gizem Adal who was in Hambourg said: "In Jungfernstieg street, in the centre of Hamburg between 150-200 anti PEGIDA protesters gathered. They call themselves TEGIDA in contrast with the anti-Islamisation movement.