American contractor among nine dead in Tripoli five-star hotel blast
Comments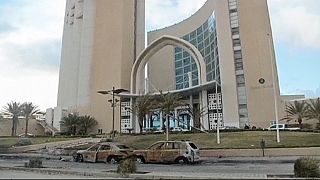 An American security contractor was among at least nine people killed in an attack on a Libyan hotel on Tuesday.
The contractor has been identified as John Berry, who had been working as a security contractor for consulting firm Crucible LLC, according to news channel NBC Washington.
The US State Department confirmed the death of a US citizen in the attack. "We can confirm the death of a US citizen in Libya. We have no additional details to share at this time," said a senior State Department official who was traveling with Secretary of State John Kerry.
A security guard was also killed when the attackers set off a car bomb in the hotel's car park.
One of the security guards who was on duty described the moment one of the attackers detonated a grenade. He explained there were "two people armed with explosives inside their bags, one of them hugged me, one of them exploded. The other did not explode."
Tripoli's prime minister, who was a guest at the hotel at the time of the assault, was rescued without injury.
A militant group linked with ISIL militants has claimed responsibility for the assault as revenge for the death of a suspected Libyan al Qaeda operative in the US, according to the SITE monitoring service.
Libya continues to see violence and unrest as rival governments battle for control of the country.
The country is split in two, with an internationally-recognised administration in Tobruk in the east, and a rival government in who set up their own administration last year in Tripoli.
The United Nations is currently holding talks in Geneva with some of Libya's warring parties in an attempt to end hostilities.