Tsipras pledges end to 'vicious cycle of austerity' at victory speech in Greece
Comments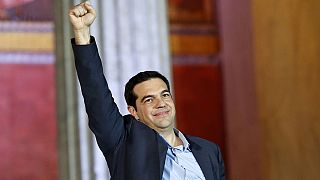 The man of the moment, Alexis Tsipras has swept to power in a landslide win in Greece.
His Syriza party's anti-austerity message appears to have chimed with a public fed up with five years of spending cuts and recession, and he gave his public more of this message of hope as he claimed victory.
"Greece has turned a new page, Greece leaves behind the austerity of destruction, fear and authoritarianism, leaves behind five years of humiliation and suffering – proceeds with optimism, hope and dignity and steady steps in a changing Europe," said Tsipras to thunderous applause from his thousands of supporters gathered in Propilia Square.
"The mandate of the Greek people, your mandate, today cancels in an undisputed manner the memorandums of austerity and destruction. The mandate of the Greek people makes the troika a thing of past in our common European framework."
As a punk anthem rang out, the eurozone's first radical left leader took in the moment, but after the party the hard work begins and will prove whether Tsipras will be saviour or traitor to the nation who chose him to lead them out of austerity.