Anti-austerity Syriza party wins Greek election but falls short of an absolute majority
Comments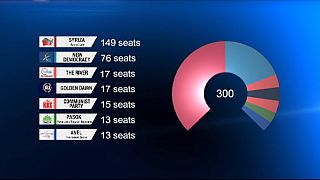 Greece's new parliament has a new look about it with radical left Syriza holding the reins of power in the 300 seat legislature.
In the end they fell short of an absolute majority taking 149 seats but doing far better than many had expected.
This has left New Democracy, the party of outgoing prime minister Antonis Samaras doing some soul-searching after coming in well behind their main competitors in second place.
Their coalition partner PASOK were virtually wiped out, after being the third largest party in 2012, they have been relegated to sixth place.
Financial markets have reacted nervously to the result – the euro slid to an 11-year low and US stock futures fell as Asian markets opened on Monday .