Greek elections: SYRIZA on course to win, but may fall short of majority
Comments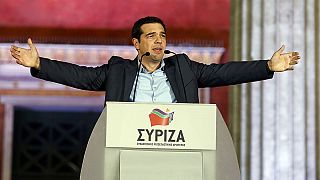 The collapse of the coalition government saw Greece go to the polls on Sunday, January 25. Exit polls point to a win, but not an overall majority, for anti-austerity party SYRIZA.
Latest results suggest SYRIZA is in the lead with 36.19 percent of the vote and a projected 149 seats in parliament. 151 seats are needed for an absolute majority in the 300-seat Greek parliament.
Alexis Tsipras, leader of the left-wing newcomers, has promised a return to democracy. Notably, his SYRIZA party says it is committed to cancelling many of the terms of Greece's debt bailout package, which could lead to a Greek exit from the euro zone.
In a speech made on Sunday evening, Tsipras said the austerity period had come to an end, but he promised:
"The new Greek government will be ready to cooperate and negotiate with the European Parliament."
Outgoing prime minister and leader of the New Democracy Party, Antonis Samaras, appealed to the new government to continue to be part of the euro zone.
"We saved the country from catastrophe, from the worst," he said. "Now, I hand over a country that belongs to the euro zone and I hope the next government will keep what we saved."
Latest results show the New Democracy Party received 28 percent of the vote, which equates to an estimated 77 seats in parliament.
You can take a look at all of the evening's developments in our blog below.
​​