Celebrations as Syriza supporters look to a future without austerity
Comments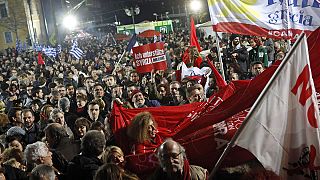 Jubilation in University Square in central Athens as thousands of Syriza supporters celebrated the landmark win by their anti-bailout party Syriza party with flag waving voters pinning their hopes on the promise of an end to austerity.
"These were the most crucial elections in the history of modern Greece," said one young woman. "As young people we opened up the road. Greece will change, Europe will change. A prosperous future starts tomorrow for Greece and us."
" Everything will change," said another optimist. "Austerity will end, we'll stop seeing homeless people in the roads not having a house to stay in, banks will stop take possession of our houses".
Our reporter Nikoletta Kritikou summed up the mood of many in central Athens:
"Thousands of people gathered here to listen to the first speech given by Alexis Tsipras, after the results were announced. All of them hope that soon Greece will "turn a page" and finally leave the troika and austerity behind."