Greece's Syriza juggling the promises it made
Comments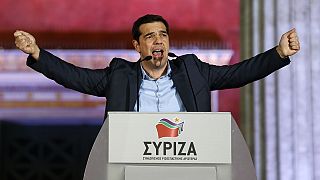 What future for Greece under the leadership of Alexis Tsipras? Five years of belt-tightening got too much for many Greeks to bear. Result: they rallied to Syriza, the party that promised to end the destructive, humbling effects of austerity.
Europe's most indebted country rattled financial markets with the prospect of Athens and Brussels locking horns over Greece's economic future.
There's been less surprise in European capitals than concern, in Berlin the most of all, where Chancellor Angela Merkel's government has steadfastly championed European policy of structural reform and fiscal discipline.
The German Central Bank's Jens Weidmann said Greece must honour pledges to creditors.
MP Klaus-Peter Willsch, in Merkel's CDU party, threw down the gauntlet:
"My advice to the new Greek government would be to get out of the euro because the competitiveness of Greece is too poor to perform well in such a strong currency. Let's see what they think about that."
Athens' first Herculean hurdle comes on February 28th; that's the aid programme expiry date.
Germany's debts were all but cancelled in the past; has Greece's turn come?
Well, in 2011, private-sector holders of Greek debt accepted a massive writedown.
Now it's thought Tsipras will ask for more time to pay off what Athens has borrowed.
The Syriza party's chief economic strategist, John Milios, says: "We need a quick agreement with the Troika that will finish the extreme austerity policies. We need sustainable new policies that will help the majority of Greeks. It's time to turn the page. We have got to respect the election outcome and respect the will of the Greeks."
Syriza needs to reconcile the debt holders with the promises it made to get elected. These are to boost public spending, reverse privatisations, increase salaries and pensions… in short, to repeal some bailout laws.