First woman bishop smashes Church of England's glass ceiling
Comments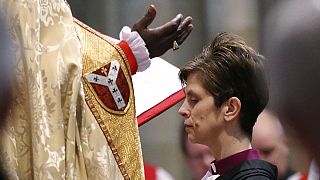 The Church of England has consecrated its first woman bishop more than two decades after it allowed women to become priests.
Mother-of-two Reverend Libby Lane was ordained in a ceremony at York Minster, a Gothic cathedral in northern England. Earlier, Lane had spoken of what she hoped her consecration would achieve for women.
"If my appointment encourages a single young woman to lift her eyes up a bit and to realise that she has capacity and potential and that her environment or those around her don't need to dictate what is possible for her, then I'd be really honoured" she said in an interview published by the Church.
Her appointment, announced in December, has been hailed as a step forward for gender equality by Archbishop of Canterbury Justin Welby, spiritual head of the Church, and by many others including Prime Minister David Cameron.
Today sees the consecration of the first female bishop in the Church of England, The Revd Libby Lane. The… http://t.co/OPJsvgA9Jm

— Diocese of Lincoln (@CofELincoln) January 26, 2015