Lindsey Vonn claims final race before World Championships
Comments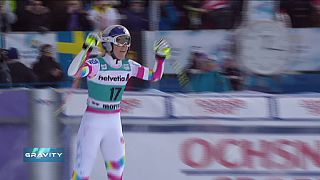 Welcome to Gravity, our weekly show dedicated to Alpine skiing.
America's Linsey Vonn bounced back from a disappointing 23rd place in Saturday's downhill with her fifth victory of the season in St Moritz. The 30-year-old dominated her opponents from the outset and completed the course in an impressive time of 1 minute, 23.55 seconds to edge out Austria's Anna Fenninger by the narrowest of margins with compatriot Nicole Hosp completing the podium.
It was Vonn's 64th World Cup victory, the 30-year-old having passed the previous all-time record of 62 set by Austrian great Annemarie Moser-Proll last weekend in Cortina d'Ampezzo.
Tina Maze of Slovenia and Tina Weirather were both caught out by the second-last gate when challenging for a top-3 finish. Maze still leads the overall standings with a 184-point lead over big globe holder Fenninger with Vonn third, 339 points behind.
Analyse this
Although this win might have given Lindsey Vonn a major confidence boost ahead of next month's World Ski Championships on home snow in Colorado, the American knows she will have to be to be on top of her game to beat the likes of Shiffrin, Gut, Fenninger, Maze and Görgl.
Our consultant Franck Piccard said: '' This should be a fascinating clash of the generations. Everybody is pleased that skiing is regularly renewed. There has always been a divide between the older experienced skiers and the fresh young talent who arrive with their new techniques and methods of skiing and preparation. That's how it was with Shiffrin and it will be the same for others. The established skiers count on their experience and ability to control and lead the way. So this confrontation forces everybody to progress. It's impossible to say who will come out on top. In spite of everything it's often the confirmed experienced skiers who do best in a World Cup season, but in a World Championship season it could very well be a fresh young talent who wins."
Skiing past
It's the 21st January 2012 in Kitzbuhel and it's snowing hard. The organisers have had to lower the start gate. This hasn't stopped the Swiss Didier Cuche beating three Austrians Romed Baumann, Klaus Kroell and Joachim Puchner. The former butcher has clinched his fifth downhill event in the Tyrol resort, a record and a paradox as he has never won in front of his home crowd in Wengen, where he came second in 2007, 2008 and 2011. A few weeks later, at nearly 38, Didier Cuche would put on a period costume to take part in the last race of his career.