Italian police uncover new haul of looted ancient artefacts
Comments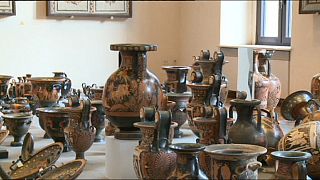 More 2.5 million euros worth of ancient artefacts have been recovered in Italy.
The 1,500 items are said to have been stolen from sites in the Campania region, including Pompeii.
They have been located after a long police investigation.
"The works we see today, though found in the same guilty hands, are from different regions and I really think they have to be given back to them," said Dario Franceschini, Italian Culture Minister.
The latest find comes just days after police revealed that they had seized five thousand items worth a record 50 million euros – after smashing a criminal network.
The rare pieces were reportedly looted from illegal digs in Italy and were found in Switzerland.