At least 27 killed in rocket attack on Ukraine's Mariupol
Comments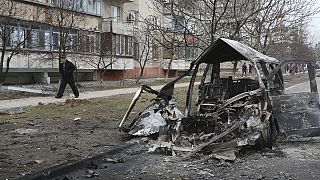 Authorities say at least 27 people have been killed in attacks on several locations in Ukraine's government-held city of Mariupol.
Local officials blamed pro-Russian separatists for the barrage, one of which struck at a crowded open air market. But rebels denied targeting the city.
Reports say more than 80 people were wounded. Graphic video footage showed bodies lying strewn on the streets amid a scene of carnage.
Pro-Russian separatists have captured large areas of two eastern regions of Ukraine causing a million people to flee their homes.
During the past two weeks, there's been seen a surge in fighting between government forces and rebels.
Over 250 people have been killed, bringing the overall death-toll in the conflict to more than 5,000 since last April.
Despite international calls for a new ceasefire, rebels vowed just a day ago that they would continue their offensive.
Eyewitness video