Twenty-seven million 'drops of pain' that heirs of USSR victory do not forget
Comments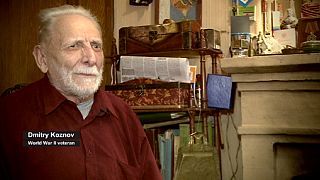 Dmitry Koznov went to war at 18, in 1943, when Hitler's invasion force still hovered not far from Moscow. The theatre school student took up arms to break the siege of Leningrad and fight in Belarus, Ukraine, Poland and Germany, barely surviving what Soviets called the Great Patriotic War.
A lady saved me, carried me off the battlefield.
Dmitry Koznov, veteran of World War II: "I was so wounded I was spitting blood. Lying on the ground. A lady saved me, carried me off the battlefield. But she was so skinny! Zina Fedorova. A very popular nurse. Not sitting somewhere at a medical aid post, a nurse out saving lives!"
Koznov does not really like to wear his medals. He does it for our report, to show them and then take them off at once. The greatest reward, he says, is life experience, saying that were it not for those terrible years, he would perhaps never have known such friendship, truly faithful, distinguish honesty from lies, known real joy.
"Laughter was sometimes even stronger in the most difficult moments. Laughter was the way to encourage and to cheer each other up, a sort of vitamin. The harder things were, the more we naturally wanted to fight and return to life. Man's psychological nature is generally to turn away from grief. "
The greatest joy was the final day of the war against Germany. Koznov's regiment learned about the signing of the capitulation almost 24 hours after the event when fellow soldiers caught the news on the radio.
"It was a real party! In Russian style! We were just happy! Kissing, hugging, throwing our caps in the air, really in the hot flush of rejoicing!"
After victory, Koznov returned to his studies, and later worked in theatre. Today, his Moscow apartment resembles a museum, replete with photos of Soviet era stars: the opera singer Fiodor Shaliapin, the Nobel Prize writer Alexander Solzhenitsyn, famous actors and movie directors. All of them felt at home here.
"After the war, we saw amazing performances in film and in the theatre. Because from the war people brought with them truth, the heart. We were not afraid of anything, because we had seen everything. We had tasted and tested life."
We ask why, even 70 years after the war, Russians are so proud of their victory. Koznov responds instantly, full of emotion.
"Seventy years — is it really that much for a nation? It's just one or two human lifetimes. Not only military fought that war. Did not civilians die? How can we forget and immediately change?"
At 90, Dmitry Koznov is still teaching theatre to students.
By conservative estimates, many feel, 27 million people of the Soviet Union were killed in those years, and almost every family today still feels 'kapla bolé' a 'drop of pain' for the loved ones who died.