Bears poisoned by chocolate overdose
Comments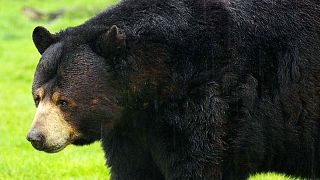 New Hampshire wildlife officials are drawing up a proposal to curb the use of chocolate as bait by hunters seeking to draw black bears out of the woods after four of the wild animals were found dead at a trapping site from an overdose of the treat.
Bears find sweets irresistible during the autumn hunting season and eat voraciously to build fat stores for winter hibernation, said Kent Gustafson, the Wildlife Program Supervisor for the state's fish and game department.
"Given the circumstances, we certainly don't want to see something like this happen again," Gustafson said. "I expect we will have a proposal to deal with this sometime next month."
Four black bears, including two cubs, were found dead in September within 50 feet of where a hunter placed nearly 100 pounds of chocolate and doughnuts as bait, wildlife officials said. An autopsy conducted by the University of New Hampshire showed the bears had died of an overdose of theobromine, a naturally occurring toxic ingredient in chocolate.
Gustafson said the deaths were the first of their kind reported in New Hampshire, but followed similar incidents with black bears and raccoons in Michigan.
He said the proposal put forward by the department could range from banning any chocolate in bear bait, to allowing it only in limited quantities, like in doughnuts or chocolate sprinkles on other sweets.
Hunters killed 784 bears in New Hampshire during the 2014 hunting season, the vast majority by using bait, and most of the rest using hounds to track down the animals. New Hampshire has about 4,800 black bears, officials estimate.
- REUTERS