Ukraine: Bus stop shelling kills at least nine in Donetsk
Comments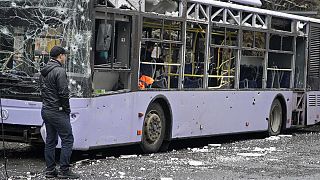 At least nine people are reported dead after a shell or mortar hit a bus stop
in the rebel-held city of Donetsk in eastern Ukraine Many sources put the death toll at 13.
This was the second deadly bus blast in the east in as many weeks, a cruel reminder of reality on the ground after diplomatic progress at international talks on the crisis.
"We heard the blast and ran here," said one man at the scene.
"We saw the bus was destroyed, the car had exploded. There were lots of dead bodies. There was a wounded man on the bus. He was asking for help."
It is unclear who was behind the fire, said to have wounded around 20 people. Ukraine's Defence Ministry was quick to blame the separatists.
Fierce fighting continues at what remains of Donetsk Airport with at least six Ukrainian servicemen killed in the space of 24 hours.
In a big blow for Kyiv, its forces have had to withdraw from the main terminal.
"It looks like a sieve and there's simply nowhere to hide there," said a spokesman.
Ukraine's government insists that other parts of the airport are still under its control.