Yemen sinks deeper into chaos as Shi'ite Hoothi rebels seize presidential palace
Comments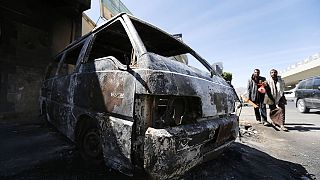 Shi'ite rebels in Yemen have taken over the presidential palace, strengthening their stranglehold on the capital Sanaa as the country falls deeper into crisis.
Taking no chances, the southern port city of Aden has now closed its air, sea and land crossings, according to reports, with security authorities there denouncing what they call an act of aggression against President Abd-Rabbu Mansour Hadi.
After two days of fighting in Sanaa, the UN Security Council has also backed the president who the rebels deny toppling. They have shelled his home but say he is still there and can leave if he wants to. He is reportedly safe.
Friendly to Iran, the rebels, known as Hoothis, have emerged as the dominant force in Yemen.
But, for now at least, they appear to have decided to stop short of overthrowing Hadi, possibly preferring to keep the enfeebled leader at their mercy rather than assuming the burden of seizing power.
Claiming they are campaigning against corruption, the Hoothi rebels seized Sanaa in September but have only now taken the presidential compound.
Their leader Abdel-Malek al-Houthi has threatened to take further "measures" unless the president bows to Hoothi demands for constitutional changes that would increase their power.
Yemen has been plagued by Islamist insurgency, separatist conflict, sectarian strife and economic crisis for years. An "Arab Spring" popular uprising in 2011 led to the downfall of long-ruling President Ali Abdullah Saleh, bringing more chaos.
Foreign ministers of Gulf Arab states, allies of Hadi, were due to discuss the crisis in Yemen at an emergency meeting in the Saudi capital Riyadh later on Wednesday.