Washingtonians react positively to Obama's union address
Comments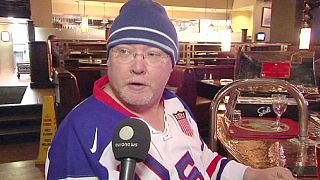 Like few other cities in the world, Washington, DC, is a place where people flock to bars to watch political speeches – especially when they are delivered by Democrats.
Despite the partisan gridlock, most patrons at Capitol City Brewery, a popular hang-out in downtown Washington, were overwhelmingly positive about Obama's State of the Union address.
"I think he was very good, straight to the point, I think he is doing a good job, I really do," said one man.
"I think that Obama delivered some feisty punches on a lot of issues. I think he is trying to push through a lot of things that he originally put out when he was elected. He is going to have a lot of challenges with Congress," opined one woman.
"I'd like to see more done in terms of climate change. I think that is the long-term problem that is out there that nobody is really tackling."
Given Obama's political agenda is certain to face a rough ride from the Republicans our Washington correspondent, Stefan Grobe, says that means more clashes on Capitol Hill.
"President Obama challenged the Republican Congress on a lot of controversial issues, domestic and foreign. That indicates that he is willing to spend whatever political capital he has left. His last two years in office will likely be anything but boring."