Turkey's parliament rejects sending four former ministers to face corruption trial
Comments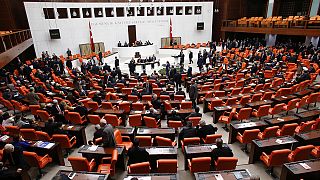 Turkey's ruling AK party has used its parliamentary majority to vote against lifting immunity from prosecution of four former ministers charged with corruption.
A government-backed committee had been ordered to investigate the allegations before sending it to parliament for a vote.
The 2013 investigation rocked Turkish politics when prosecutors launched a series of spectacular raids and at one time threatened President Recep Tayyip Erdogan's inner political circle.
The recommendation that there was insufficient evidence for a trial has come as little surprise to many locals but for different reasons:
One Istanbul resident said:
"It means that nothing negative was discovered about these ministers. . We should respect the decision of the parliament."
Another was more circumspect::
"Well it has opened the way for society. Theft is now approved of! The president obviously put pressure on the AKP (Justice and Development Party)."
The move comes one day after President Erdogan replaced Turkey's prime minister and chaired a cabinet meeting.
Erdogan's apparent drive for a stronger presidency is fueling concern among his critics over his quest to increase his presidential powers.