Third day of unrest in DR Congo as rights group says over 40 people have died
Comments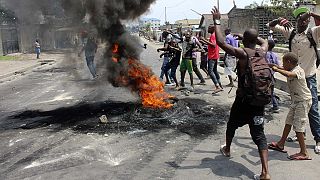 For the third day running, violence has erupted in the Democratic Republic of Congo as police clashed with demonstrators denouncing electoral reforms.
More than 40 people have died in the protests, according to the International Federation for Human Rights (FIDH) group – that is three times the official estimate.
The unrest has hit the capital Kinshasa and Goma, the main city in the east.
President Joseph Kabila is constitutionally barred from standing for a third term in an election scheduled for next year.
Protesters are angry at a law that would require a national census to be carried out before the poll, a move that could delay it by years thus allowing the president to put off standing down.
As the situation deteriorates, the Archbishop of Kinshasa, Laurent Monsengwo, has condemned the electoral reform moves and told the authorities 'stop killing your people'.