Ten year jail sentence for Turkey policemen over student protester's death
Comments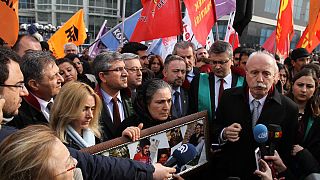 Two Turkish policemen have been jailed for ten years for their part in beating a teenage student to death during anti-government protests in 2013.
Security-camera footage showed Ali Ismail Korkmaz,19, being hit in the head with clubs by at least four men in civilian dress before he ran away amid violent protests southeast of Istanbul. Korkmaz fell into a coma and died over a month later.
His family described the sentences as too lenient and there were demonstrations outside court in the central Turkish town of Kayseri.
Supporters of the police saw their treatment as unjust.
Three other defendants were sentenced to nearly seven years in jail. A sixth man was sentenced for three years but the court decided to release him given the time he has spent on remand.
At least five other protesters and one police officer died and thousands were hurt in 2013 in unrest triggered by plans to raze Istanbul's central Gezi Park to build a shopping mall. The demonstrations rapidly spread to other cities over what critics described as Turkish leader Recep Tayyip Erdogan's increasingly authoritarian rule.