Turkish police arrest suspected illegal wiretappers accused of snooping on government
Comments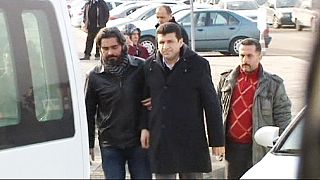 Turkish police have arrested 23 people suspected of being involved in illegal wiretapping against senior government figures.
Prosecutors are investigating claims of wiretapping targeting the president, the prime minister, the armed forces head and other top officials.
Separately, police chiefs in 21 provinces have been replaced but authorities have refused to say why.
After the arrests President Recep Tayyip Erdogan said, "We're well aware of the unity of circles in and outside of Turkey to thwart the country's ambitions."
His comments are being widely seen as a swipe at Fethullah Gulen, Erdogan's former ally-turned-foe.
A Turkish court issued an arrest warrant last month for the Muslim cleric, who has lived in self-imposed exile in Pennsylvannia since 1999.
A corruption investigation targeting Erdogan's inner circle which became public in December 2013 was based in part on wiretapped conversations, many of which were subsequently leaked on the Internet.