Several deaths reported in Kinshasa after protests against electoral reforms opposition brands a "constitutional coup"
Comments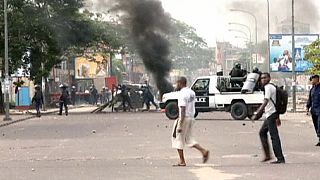 Opposition supporters protesting against reforms to the Democratic Republic of Congo's election laws that may delay the 2016 vote came under tear gas fire from police in the capital, Kinshasa.
Hundreds of people threw stones and burned tyres, and tried to set up at least one barricade. There were also protests in the eastern city of Goma.
Conflicting reports say there were a number of fatalities, possibly as high as 13.
The laws have already passed in the lower house, and are now in the senate. They would require a new national census to be complied before the next election, which could take years, allowing President Joseph Kabila to extend his rule.
Opposition leaders say they were prevented from joining the protests after their homes were surrounded by police.