Death of a prosecutor in Argentina provokes street demonstrations as officials find no evidence of an outside link
Comments
By
Euronews
with
Associated Press, Reuters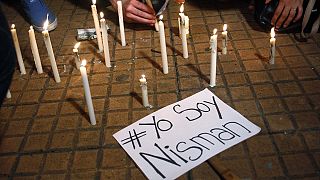 A group of protesters held a demonstration outside Argentina's National Congress to draw attention to what they see as the suspicious death of special prosecutor Alberto Nisman, whose body was found in his Buenos Aires apartment on Sunday.
Nisman had accused President Cristina Fernandez de Kirchner of helping to shield Iranians suspected of involvement in the deadly bombing of a Jewish centre in 1994.
Patricia Bullrich, National Deputy from Union por Todos party, said Nisman was conscious that his findings could put him at risk:
"The prosecutor told me on two or three occasions over the last few days that he feared he could lose his life over this investigation into the Argentine-Israeli Mutual Association bombing. This is a very serious subject. I think he was aware."
"Instead of explaining if it was suicide or not the president should explain what is going on in Argentina, which she presides over, after having been involved in a cover-up and now we have a dead prosecutor", said Rabbi Sergio Bergman, a National Deputy from the Propuesta Republicana party.
Officials say there is no evidence that anyone else was involved in the death of 51-year old prosecutor Nisman. A statement said a gun and cartridge shell were found next to his body.
He had been due to appear before a Congressional hearing on Monday about the 1994 bombing. He was expected to present evidence that the president and other officials cleared Iranians of involvement to facilitate a trade deal between Iran and Argentina.
The government has dismissed the allegations as ridiculous.
85 people died in the bombing of the Jewish centre in Buenos Aires. Nisman had spent the last ten years investigating the blast.