Danes form their own Pegida movement against islamic extremism
Comments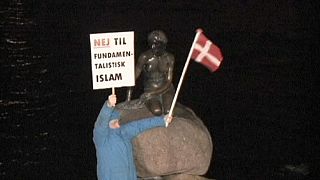 Inspired by the German Pegida movement around two hundred people marched through the Danish capital Copenhagen on Monday.
Organised by Pegida DK, protesters waved Danish flags as they marched from the National Gallery to the city's iconic Little Mermaid statue. The event was small compared to similar demonstrations in neighbouring Germany. One of protesters, Jewish woman Lina Gotterman, made it clear that for her the movement is not about nationalism, but promoting tolerance by opposing islamic extremism:
"I think it's important that we show that this is a very very important thing that we can have our expression, free expression, and that Jews can be allowed as well as Christians as well as Muslims, as well as all religions."
On the opposite side of the street a counter-demonstration took place.
"I've come here to show that not all Danish people are racist and it's very important to speak up against racism because hatred leads to nowhere," said Dorthe Guldfeldt.
Police were present to monitor the two marches but they both passed off peacefully.