'Relaxed' Obama undaunted by Republicans' upper hand
Comments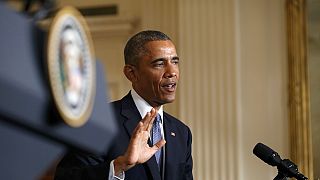 President Barack Obama gives his annual State of the Union Address this Tuesday night from Washington. Luckily for him, the US Constitution entitles him to do this, as this time he will deliver the speech before the combined chambers of Congress under Republican control for the first time since Obama took office in 2009 at the head of the Democrats.
The Democrats suffered a severe setback in November's midterm elections, even though the country was enjoying a robust economy, historically low gas prices, only 5.6 percent unemployment and extremely low interest rates.
Yet in spite of losses that Election Day, Obama seems to be benefiting from not having to run another campaign, presidential historian Allan Lichtman tells us.
"He has got couple of things to worry about: one is his legacy and two is doing what he thinks is the right thing for the country. And he does seem to be focused on that, he does seem to be more relaxed, he does seem to be more himself, he does seem to be less under the thumb of the consultants, and not surprisingly, his approval ratings have gone up! People like politicians when they are genuine."
And yet Lichtman dismisses any notion that a Democratic president and a Republican Congress can get anything of substance done in the two years remaining of Obama's presidency.
"You always need to make a rhetorical pass at bipartisanship, because the American people – the same folks who believe in the tooth fairy – still believe in bipartisanship, even though it doesn't really exist. You have the reality that the Republicans and Democrats just don't agree! On every fundamental issue, there is this deep ideological divide between the two parties."
It's expected that Obama will pursue the fight with Republicans advocating for income equality, affordable health care, equal pay and easier access to higher education.
Our correspondent in Washington, Stefan Grobe summed up: "On Tuesday night, President Obama is going to make a stand portraying himself as a European-style Social Democrat who is fighting for the middle class against heartless Republicans. Obama says he wants to work with Congress, but the battle lines are already drawn."