Erdogan stirs power concerns by chairing Turkish cabinet meeting
Comments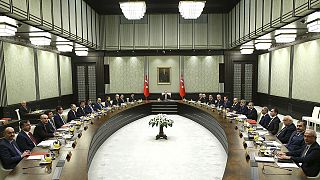 In a move widely seen as furthering his drive for a stronger presidency,
Recep Tayyip Erdogan has become the first Turkish president to chair a cabinet meeting in more than a decade.
The gathering was held in Erdogan's controversial new presidential palace, a vast 1,150-room complex on the outskirts of the capital, Ankara. Presidents have chaired cabinet meetings in the past, but almost exclusively in times of crisis.
With parliamentary elections looming in June, it is a sign, critics say, that he's bent on accumulating much more power since he won the presidency last year with 52 percent support.