Pegida weekly protest march in Dresden cancelled after attack threat
Comments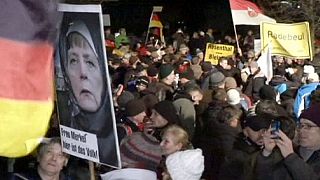 The weekly march in the German city of Dresden organised by the organisation PEGIDA – Patriotic Europeans against the Islamisation of the West has been cancelled. It has been called off because of a security threat.
In a statement the group said it was informed there was a 'concrete murder threat' against one of the people in its organising team. The police have banned all marches in the city.
The announcement comes 24 hours after a march in support of an Eritrean asylum seeker, Khalid Bahray. The 20-year-old Muslim was stabbed to death last week in the city when he left his apartment to buy cigarettes in a local supermarket. His killing has raised tensions in Dresden.
PEGIDA, which drew a record 25,000 to its march last week denies claims the group is racist and says it tries to distinguish between Islamists and most of Germany's four million Muslims.