Tens of thousands turn out to greet Pope Francis in the Philippines
Comments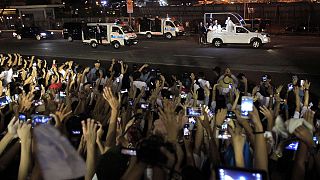 Tens of thousands of people have lined the streets of the Philippines capital Manila to welcome Pope Francis.
It is his first visit to Asia's largest Catholic nation where more than 80 percent of people are followers.
The country's mounting one of its biggest ever security operations as the other pontiffs to visit were both targets of assassination attempts.
Several people are protesting, hoping the Pope will promote their plight.
Trade union leader, Renato Reyes said: "He's been known to take a strong stand on social issues and that's something truly relevant in the Philippines. We're faced with massive poverty and human rights violations."
Around six million people are expected to hear Pope Francis say Mass on Sunday. The government has declared a three-day public holiday and even closed financial markets.
The Pope will spend five days in the Philippines, the second stop of his Asian tour after Sri Lanka.
Pope Francis will also visit the central province of Leyte, which is still struggling to recover from Typhoon Haiyan that killed more than 6,000 people in 2013.