Kremlin critic Navalny detained by Moscow police for breaking house arrest terms
Comments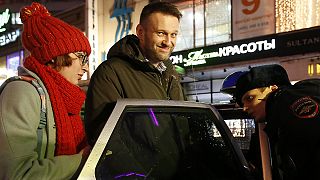 The Russian opposition leader Alexei Navalny has been detained by police as he left a Moscow radio station, accused of breaking the terms of a house arrest order.
The blogger and Kremlin critic had already cut off his electronic tag, saying he would no longer comply with the terms of what he called his "illegal detention".
His followers had planned a rally of support but it's understood this has been postponed.
Navalny was intercepted by officers who took him to a police station for questioning before being taken home.
Earlier this week Russian authorities blocked access to his website following a request from prosecutors.
Navalny had argued he should have been released last month when he received a suspended sentence for embezzling money. He had been placed under house arrest almost a year ago.
Russia's highest-profile opposition figure, he led mass protests against Vladimir Putin three years ago.
He and his brother – who was jailed for three and a half years in December – had been charged with stealing 30 million roubles (nearly 400,000 euros) from two companies.
Navalny believes the case was politically motivated due to his opposition to Russia's president.
The Kremlin denies influencing court decisions.
The European Parliament is due to raise Navalny's case as part of a human rights debate on Thursday.