Climbers make history and reach El Capitan's 900m summit using just their hands and feet
Comments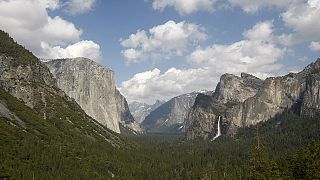 Two climbers have become the first to complete a historic 900 metre ascent up a sheer granite face using only their hands and feet.
Americans Tommy Caldwell (36) and Kevin Jorgeson (30) completed the climb of Yosemite National Park's El Capitan in California in 19 days.
The two men got to the top of the so-called Dawn Wall without bolts or climbing
tools but had only safety ropes in case of falls.
By day and by night they worked their way past some of the toughest stretches or rock on a climb said to be one of the world's most difficult.
Jorgeson struggled for several days last week, at one point having to rest for two days while the skin on his fingers healed after being ripped off by razor-sharp ledges.
On reaching the summit their joy and relief was self evident – as no doubt it was likewise felt by their families below.