Catalonia's Arthur Mas announces early regional poll continuing his fight for independence
Comments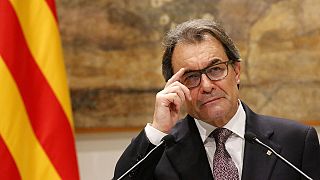 Catalonia's leader Arthur Mas has announced early elections for the wealthy region in a direct challenge to the national government in Madrid.
Mas wants to use September 27 to serve as a proxy poll for a referendum on independence.
"September 27th will be exactly one year on from when I signed Catalonia's most important decree that lead to us holding [November's] symbolic consultation of the people," said Mas.
Although the November ballot was ruled illegal by Spain's constitutional court, around 80% of those who took part voted in favour of independence. However well under half of eligible voters in Catalonia took part.
The September poll will take place just weeks ahead of Spain's general election and a strong backing for separatist parties in the fiercely individual region could influence the national political agenda.