Belgian newsagents threatened over sale of Charlie Hebdo
Comments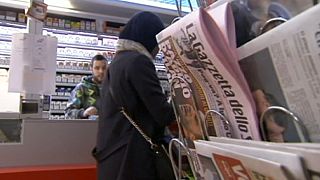 In Belgium, some shops planning to sell the latest issue of Charlie Hebdo magazine have been warned they face reprisals.
At least four newsagents in Brussels have reported receiving threats if they put the French satirical magazine on their shelves.
But Julien, the owner of one store, said he is taking the row in his stride.
"We will do as we usually do; open the shop everyday, sell like everyday. We received a lots of reservation requests but we refused them all. Ordinarily we only get three copies but this week more than 100 people asked.
Belgium police say they will step up security at the threatened sites.
There have also been protests in Turkey, where many feel the magazine has continually crossed the line.
Demonstrator Sumeyya Ocal said: "Our red line is the Prophet. Islam has an understanding of glorifying all the prophets of other religions. But this (cartoon) is not good faith. It was done as an insult, and it has continued for years."
There were similar scenes across Pakistan.
In Islamabad, dozens of lawmakers protested while in Lahore hundreds also marched calling for the magazine to be abolished.