Charlie Hebdo sells out - again - in France and beyond
Comments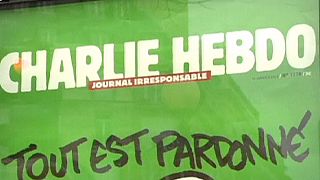 It is a sell-out – for the second day running.
It went really fast. I think if we had had 1,000, they would have sold, no problem.
Complete with front page cartoon of the Prophet Mohammed, Charlie Hebdo's first edition since the bloodbath at its offices continues to fly off the shelves in France.
Five million copies are being printed but many would-be buyers are still empty handed.
"I'd been told to come at 6am," said Amelie Goncalves, an unsuccessful customer in Paris.
"But the newsstand was closed and opened at 7am. So I did not get my Charlie".
Reflecting on the background to this so-called "survivors" edition,
Aicha Sabri, a customer of Moroccan origin, said:
"The Prophet Mohammad would not like people to be killed. I think it is unbearable and Muslims are really sad."
In neighbouring Switzerland, solidarity is also strong with reports of dozens waiting at one news kiosk in Geneva's main railway station – at 5.30 in the morning.
Some were lucky. Others less so, with copies drying up and customers left disappointed.
"Tomorrow there will be some more and maybe next week too," said a kiosk manager at the station.
"It went really fast. I think if we had had 1,000, they would have sold, no problem."
Even as far away as Hong Kong, home to a significant French community, they can't get enough of Charlie -with more than 300 pre-orders at one French bookstore.
"Satirical magazines, I think, have a great place in our societies, 
and to find one so brutally attacked, I think it's time that we all stoodup," said customer Robert Ferguson, originally from Britain.
From a tragedy, Charlie Hebdo has gained global notoriety – – the last thing those who thought they had destroyed it would have wanted.