Ronaldo Jr gets starstruck in presence of hero Messi
Comments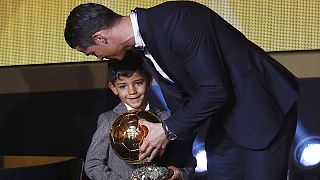 Despite having a father that has just been named World Player of the Year for a second straight time Cristiano Ronaldo's son couldn't help getting a little starstruck when meeting Lionel Messi.
Four-year-old Cristiano Ronaldo Jr met his hero and his dad's arch rival backstage at Monday's FIFA Ballon d'Or ceremony in Zurich.
After a little encouragement from his grandmother and father, a shy mini Ronaldo briefly spoke with the Barcelona star.
''He watches videos about us on the internet and then he talks about you'' Ronaldo Sr shouted to Messi across the bar as relations between the pair thawed and competitiveness put aside, but only temporarily.