Jewish victims of Paris supermarket killings arrive in Israel for burial
Comments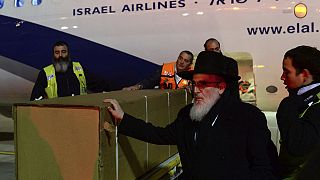 The bodies of the four Jewish shoppers who died at the Hyper Cacher supermarket in Paris last week have arrived in Israel, where they will be buried.
None of the victims were Israelis, but the families have been given a special dispensation after they requested they be buried in Jerusalem. They will lie in the same cemetery as the four victims of Mohamed Mera, also killed in France.
Last year 6,600 people emigrated from France, the world's third-largest Jewish community, to Israel, and this latest attack has led to many questioning whether or not France remains safe for them.
The Israeli prime minister, president, and leader of the opposition will all attend today's funeral, along with Segolene Royale representing France.