Jewish victims of Paris siege buried in Israel
Comments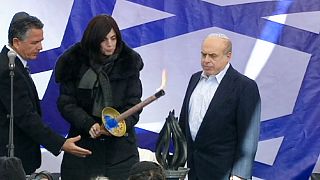 The three French and one Tunisian-born Jews killed in Paris last week by an extremist claiming to be working for ISIL have been laid to rest in Israel.
In an official funeral the four victims of terror were given a public lying-in-state at a ceremony attended by political leaders, French Jews either visiting or recently emigrated, and other Israelis.
It was a moving ceremony, with many people fighting back tears as the four victims were prepared to join four other victims of Islamic terrorism in France who were brought to Israel after being butchered by Mohamed Mera in 2012.
A flame was lit in their memory at the vast Har Hamenouhot cemetery, where some 2000 people gathered to pay their respects, including the Israeli prime minister.