Date set for retirement of Italian President Giorgio Napolitano
Comments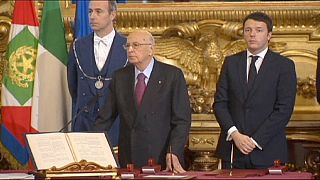 Italian President Giorgio Napolitano is preparing to say farewell.
After two terms in office, the 89-year-old head of state will officially stand down on January 14, at the end of Italy's six-month presidency of the European Union.
Prime Minister Matteo Renzi made the announcement in the European Parliament.
"I would like to thank Giorgio Napolitano, President of the Republic and committed Europhile, who will in fact leave his post very soon," he said.
Italy now faces the challenge of replacing him.
While the president has little influence over day-to-day politics, he holds what has become the crucial power to choose a prime minister and dissolve parliament.