Napolitano's six-decade winning streak
Comments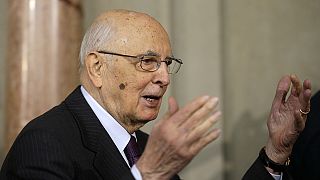 Giorgio Napolitano was the only re-elected President in the history of the Italian Republic, sworn in a second time on 22nd April, 2013 (the first had been in 2006). After five rounds of voting, the Parliament had still not mustered a consensus on a candidate. Napolitano agreed to stand as a compromise, feeling a duty to his nation, he said.
Italy had been paralysed politically, by the euro zone debt crisis. The president, during his two mandates safeguarding the continuity of the country's institutions, oversaw a lot of such inertia, while both the centre-left and centre-right were in power.
With a degree in legal theory, a member of the Italian Communist Party since the end of WWII, as a moderate, he was first elected to the national parliament in 1953, representing his home city of Naples almost uninterrupted until 1996, when Romano Prodi named him Interior Minister.
A strong supporter of European integration, from 1989 to 1992 he was a Member of the European Parliament as well as the Italian Parliament. Later, for five years, he chaired the EU assembly's Constitutional Affairs Committee.
His predecessor as head of state, Carlo Azeglio Ciampi, appointed him Senator-for-life in 2005. The following year he turned 80 and was chosen by Parliament to be President. He is the only Communist President Italy has had — albeit as a member of the re-branded Cold War-era Communists: the Democratic Left.
His health showed signs of wavering at a ceremony to receive the title of Professor Emeritus from the University of Trento. He blamed sudden weakness on a drop in blood pressure, continued his speech seated, and gave another one that afternoon.
Napolitano saw five heads of government come and go. The one with whom he had the most tumultuous time was Silvio Berlusconi. They were opposites in personality style and politics — the elder statesman's reputation unimpeachable. It was to Napolitano that Berlusconi handed his resignation in 2011, in the very thick of the euro crisis.
In contrast, Pope Francis said he was pleased to associate himself to the esteem and affection that the Italian people have for him. Napolitano's supporters say he has been an anchor of stability, while his detractors accuse him of overstretching his powers.