Cameroon claims 143 Boko Haram militants killed in military camp attack
Comments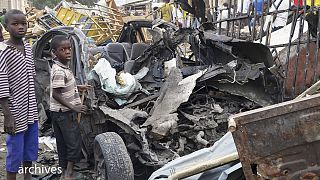 A government official in Cameroon says at least 143 Boko Haram miltants have been killed in an attack on a military camp.
The assault reportedly took place near to the northern town of Kolofata. According to the minister, it resulted in the heaviest loss sustained by the Nigerian Islamist group in Cameroon.
The incident coincided with an announcement from Nigeria's military declaring around 150 people had been killed in clashes with Islamist militants in the northeastern town of Baga.
Unconfirmed reports suggest thousands were killed in two earlier attacks there, causing many thousands to flee to neighbouring Chad.
Jens Laerke, spokesman for the UN Office for the Coordination of Humanitarian Affairs, gave the latest figures.
"The attacks in Baga town, in Borno State, on the 3rd and 7th, displaced an estimated 150,000 people," he said. "That's according to the Borno State Emergency Management Agency, because access, independent access to the area is simply not there at the moment. So these figures have yet to be verified by the UN."
On January 12, a device strapped to a ten-year-old girl exploded in Maiduguri, northern Nigeria, killing 20.
Boko Haram did not immediately claim responsibility. However, the insurgents have been using young girls as human bombs more and more frequently as the militant group tightens its grip on Africa's top oil-producing country.