At least 12 killed in Ukraine bus attack
Comments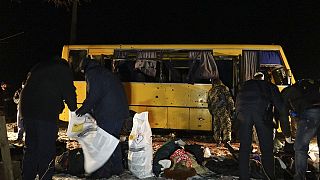 It is the deadliest attack on civilians in Ukraine since efforts four months ago to implement a ceasefire.
At least twelve people are dead and 16 injured after a bus was hit by heavy weapons fire in the east of the country.
The killings happened near the town of Volnovakha after the bus set off from Donetsk, which is in rebel controlled territory, and approached a government checkpoint.
Petro Poroshenko, the President of Ukraine spoke out about the killings.
"These deaths are on the conscience of the gangs of the Donetsk and Luhansk People's Republics and those who support them," he said.
"Because of this terrorist attack we have to strengthen restrictions on crossing the line behind which there are areas of Donetsk controlled by rebels."
The separatist fighters deny they were behind the killings.
Among the victims were four men, seven women and a 14-year-old. Several soldiers were also among those hurt.
The killings come just days after Russia, Ukraine, France and Germany suspended plans for a summit in Kazakhstan this week.
The plans have run into problems over the continuing failure to implement a ceasefire that was agreed to four months ago.
Ten killed as separatist shell hits passenger bus (PHOTOS) http://t.co/60TASpnt5Wpic.twitter.com/uqNqlh2z8W

— Kyiv Post (@KyivPost) January 13, 2015
Eastern Ukraine: Investigate deadly artillery strike on civilian bus http://t.co/D55zzPBxs1#humanrights#Volnovakha

— AmnestyInternational (@AmnestyOnline) January 13, 2015
Deadly bus attack near Donetsk is a grim reminder that Ukraine's conflict is far from over: http://t.co/XGELAmmqT9pic.twitter.com/mWsS0CdmR4

— Ambika Kandasamy (@ambikakandasamy) January 13, 2015