Twenty six acquitted of inciting debauchery in Cairo bathhouse
Comments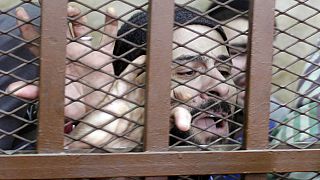 The verdict refers correctly to the law and this was our expectation from the beginning
A court in Egypt has acquitted 26 men who were charged with 'inciting debauchery', in a controversial case that provoked widespread debate.
#BREAKING : Court acquits 26 men in 'gay bathhouse' case http://t.co/S7Z01VwGH7#Egyptpic.twitter.com/rFJk7OkXOl

— Ahram Online (@ahramonline) January 12, 2015
    
The men were arrested in December 2014 following a raid on a bathhouse in Cairo. At the time, local prosecutors said the owner of the facility was accused of turning it into "a site of immoral and indecent conduct and group homosexuality."
While homosexuality is not outlawed in Egypt, discrimination is common.
"The verdict refers correctly to the law and this was our expectation from the beginning," said defence lawyer Tarek el-Awady.
"However, the rights of the defendants will only be achieved when they (the authorities) put on trial whoever was involved in this and offended the honour of these people."
A relative of one of those cleared called for television reporter Mona Iraqi to be brought to justice. She took a camera crew to film the raid.
"May God avenge this reporter for what she did in letting her ambitions override the honour of 26 young men," said the man. "She's not even here to film the acquittal. If she'd been a real reporter, she would have been here."
A pro-government television channel broadcast a video of the men being dragged from the bathhouse. Egyptian media has also published their personal details, to the fury of their families.
Deafening applause and tears as Egypt acquits 26 men in trial over police raid on gays http://t.co/vn0YnHcWr0pic.twitter.com/YT9PxLWtg9

— Mashable (@mashable) January 12, 2015